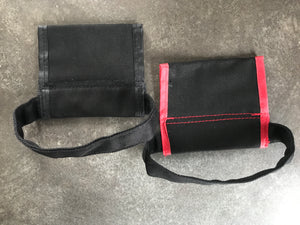 Polisher Loop
---
---
Upgrade your Detailer's Helper Tool Belt with This Polisher Loop
Our HD tool belts feature a full polisher bag to help you be more efficient and safer. This polisher loop is an alternative to that bag, if you're looking for a way to hold your polisher, but don't need to use the full bag.
Features:
Reinforced Polisher Loop - Better Hands-Free Use of Your Tool Belt
Soft Cotton Fabric
Black or Red Piping/Accents
Note - these loops are constructed of the same soft material used throughout our products. The stitching has been heavily reinforced, and they are intended to carry a polisher temporarily for better hands-free activities. Special care should be taken to ensure extreme long-term strain is not being placed on the loop as the stitching will fail.
Sizes:
Small - Better suited for smaller necked polishers like Rupes and similar sizes. This size will fit most polishers on the market, however.
Large - Better suited for larger necked polishers like Flex and small rotary polishers.
---
We Also Recommend
---