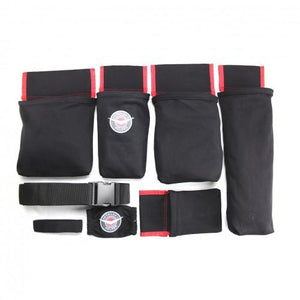 HD Tool Belt + Coating Bottle Bag
---
---
Save Up to 30 Minutes Per Detail with this Tool Belt! Better Hands-Free Use with the HD Version!
PLUS GET A COATING BOTTLE BAG
Does this Sound Like You?

You're constantly looking for your product bottles, tools, and supplies
You use the floor, cowl, hood, or roof to hold your bottles and towels
You're interested in working more efficiently
You're interested in making more money
You recognize the wear and tear that detailing causes to your body
Detailer's Helper Tool Belts are A Proven Way to Help You!
Keep your bottles, tools, and supplies on your hips, always right there with you...no more searching
Avoid incidental dirt transfer, vehicle scratches, and knocked over bottles
Save 30 minutes or more per detail, talk about efficiency!
With just 5 minutes of savings, you could earn an extra $3250 this year (see math below)
With less bending & reaching, and less time per vehicle, you can reduce the physical toll of the job

Detailer's Helper tool belts are a proven tool to improve the efficiency of your detailing work flow. From working on automobiles, cars, trucks, and SUV's, to cleaning and polishing RV's, Marine & Boats, Aircraft Aviation & Planes, and more, the Detailer's Helper HD tool belt will help you do what you already do so well even better!
The HD version of the tool belt has the added benefit of allowing you to be more hands-free. With its polisher bag, almost any polisher on the market will fit in it so when climbing ladders, working with scaffolding, or just working in precarious conditions, you and your crew are safer.
Comparison Video of Detailer's Helper and Cart Polishing:
Time Lapse of Efficient Work Flow with Detailer's Helper:
Video: Prestige Auto Polishing & Protection
When was the last time you bought a product that pays for itself? When you use a Detailer's Helper tool belt, you save time, and when you save time, you make more money. Our tool belts pay for themselves in just a couple of details.
Let's Do Some Math:
You can make at least an extra $3250 in revenue per year!
Let's say you:
Save 5 minutes per detail;
Do 3 details per day;
Work 5 days a week;
Charge $50 per detail:
You would add an extra $3250 in revenue to your business! That's a 4500% ROI on your investment!
We don't usually like math, but we like THAT math!
This tool belt has the following awesome features:
Five Individual Supplies and Tools Bags - Configure Any Way You Like
Reinforced Deep Polisher Bag - Designed to Fit Most Polishers on the Market for More Hands-Free Use
16oz Bottle Bag
32oz Bottle Bag
Mobile Phone/Business Card Bag
Polishing Pad or Large Misc. Storage Bag
Red or Pink Piping/Accents
Cord Wrangler Loop - To keep your buffer cord in place behind your back. Can also be used as a towel loop.
Adjustable Tactical Style Buckle Belt - For waists up to 44". (larger belts available)
Belt Buckle Sleeve/Cover - Designed to provide an extra layer of protection between the plastic buckle and the vehicle surface.
Soft Cotton Fabric - Detailer's Helper belts are specifically designed to be paint-friendly, so you can keep your paint scratch free!
Size Note - Our Standard belts fit up to a 44" waist. If you need a larger belt, one can be substituted, simply select it below.
*Some images depict previous logo and our standard belt for demonstrative purposes, all belts shipped with new logo.
Polisher Bag Note - The bag is designed to be deep enough to ensure minimal strain is placed on the polisher cord. The head of the polisher rests on the bag, rather than the bottom of the polisher and cord inside the bag. In addition, the design is not intended that a detailer would carry the polisher in the bag for extended periods of time. We have used and tested the bag extensively, and can say the strain on the cord should not exceed that of regular use, storage, or any other strain that is regularly placed on polisher cords. However, proper precautions to protect the polisher should be taken.
Videos:
Don't Take Our Word for It!
We had an opportunity to hear from some awesome professional detailers at Mobile Tech. El Hajj Yasir Waqaar of Red Clay Detailing (Atlanta, GA) took the time to talk about how he saves time with his Detailer's Helper tool belt.
Kevin Awalt of Arkham Auto Shine Detailing Studio in New Milford, CT talks about using Detailer's Helper for his team!
Ed Terwilliger of Cypress College in Cypress, CA talks about using Detailer's Helper!
As Seen on TV!
Detailer's Helper Tool Belts were seen on a short segment on the show Chasing Classic Cars with Wayne Carini on the Velocity Channel.
Renny Doyle and the Entire Air Force One Detailing Team 
Great product video from our Retailer Friend Bob Phillips at P&S Sales:
The video also shows how nicely these bags can be co-branded for your detailing crew with your company logo by your preferred embroidery or printing company.
Original Detailing Addict Full Video Review

Good Enough for Air Force One
Video about the AFO 2014 Poject we were honored to participate in.


Our Funny Commercial
After seeing all of the late night informercials for crazy products, we thought it would be fun to make one of our own.

Demonstration While Using Detailer's Helper Tool Belt while Polishing a 5th Wheel
---
We Also Recommend
---